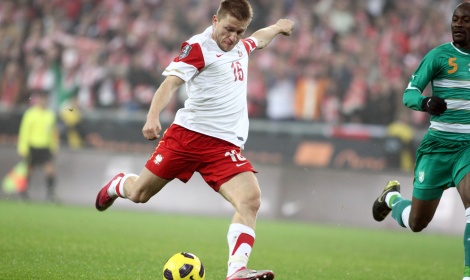 Starters (Rating scale 1-10)
Lukasz Fabiansk
i- Had another solid performance. Was tested the whole match and had nothing to say by the first and only goal scored by Ivory Coast.
Rating 7
Lukasz Piszczek- Needs to do better while attacking on the right side of the field. Played a much improved game. Was our best defender on the field. Rating 6.5
Tomasz Jodlowiec- Together with Wojtkowiak made a huge error that led to Ivory Coast's goal. Played better than his central defensive partner but if he wants to stay here, he must improve. Rating 6
Grzegorz Wojtkowiak
- A poor match for the Lech Poznan defender. Didn't communicate with the rest of the defense. Also his fault for the goal scored by Ivory Coast.
Rating 5.5
Maciej Sadlok- Was getting lost on the left side of our field. Looked nervous and lost most of his one on one battles. We need Sebastian Boenisch as soon as possible. Rating 6
Adam Matuszczyk- Played another fantastic match in the middle of the field. Assisted on both of Lewandowski's goals. Made some great passes. Made some good runs into Ivory Coast's penalty kick. Rating 8

Rafal Murawski- Had a very difficult task. Played against a very though Ivory Coast midfield. Fouled often when he got lost in the midfield. Rating 6
Jakub Błaszczykowski- Could have easily scored two goals in the match but his finish wasn't with him. When Kuba gets the ball on the right side of the field, our rivals start to panic. Our new captain was often dangerous with the ball. Rating 7.5
Adrian Mierzejewski- Not his best match in Smuda's kadra. Plays much better with Polonia at at lower level. Didn't get too offensive in the match. Rating 6
Ludovic Obraniak- Very creative when we have the ball in attack. Scored a very imprinter goal that gave us the lead. Aggressive with the ball and thats the kind of players we need. Rating 7.5
Robert Lewandowski-
A very good match from the Borussia Dortmund striker. After getting criticized lately, the former Lech Poznan forward answered by scoring two goals. Thats what we need from Lewy ever match.
Rating 8.5
Reserves
Pawel Brozek- Entered in the 72th minute but didn't show anything. Have one chance late in the match but decided to pass the ball to Lewy. Rating 5.5
Ariel Borysiuk- Played too short to be rated
Euzebiusz Smolarek- Played too short to be rated
Hubert Wolakiewicz- Played too short to be rated