After a disappointing 2-0 loss to Italy, the Polish national team look to bounce back as they welcome Hungary to Poznan.
Frank Smuda looks to make many changes in the starting lineup for this clash. Smuda wants to try out other players that he called up. The only remaining players from the Italy clash are Blaszczykowski, Polanski, Piszczek and Glowacki.
Here is the expected lineup vs. Hungary: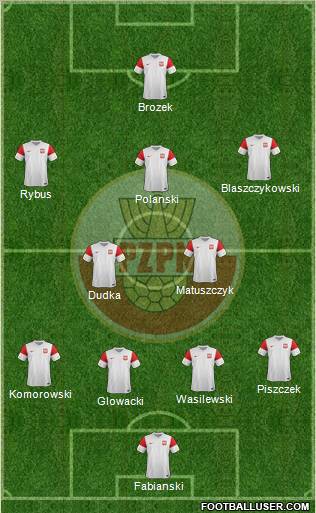 Some thoughts:
I'm not really bugged about the goalkeeping chance but there are other stuff that bugged me when I saw the possible starting lineup. Smuda has already tried Brozek as a lone striker against Belarus and the result of that was the fans chanting out Lewandowski. The same, exact result Smuda will hear in Poznan against Hungary if Brozek is caught napping again.
I doubt Eugen Polanski will play in this match, but Smuda had him in the possible starting lineup during training. The Mainz midfielder is bother by a light Achilles injury. If Polanski cant go, Smuda will most likely start Adrian Mierzejewski as the attacking midfielder. I'm not sure if Smuda is thinking about playing Polanski or Matuszczyk as the attacking midfielder.
What do you think about the starting lineup vs. Hungary?